Sustainability is key when it comes to Spark driving innovation in New Zealand. Spark believes sustainable business practices mean greater competitive advantage in the long term. As part of this approach Spark is committed to reducing our impact on the environment.
Reducing our impact on the environment
---
2025 Carbon Aspiration
With a low-carbon future in mind, Spark has an aspiration to reduce our emissions by 25% by 2025 from FY16 levels.
This aspiration will be confirmed over the course of the next two years as the impact of technology choices takes effect and reinforces our existing commitment to environmental responsibility and recognises how passionate New Zealanders are about their clean, green environment.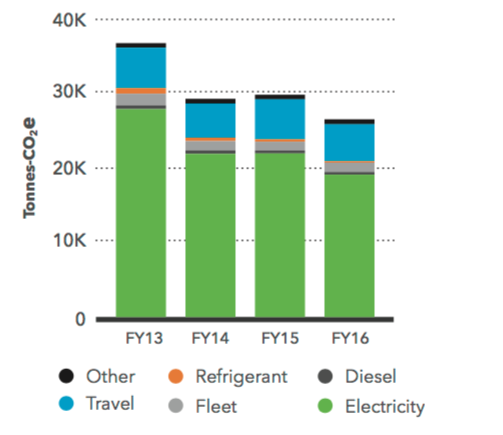 ---
Greenhouse Gas Emissions
Since the FY06 base year, Spark's annual greenhouse gas (GHG) emissions have halved.
Both direct and indirect emissions reduced this year. Spark's direct emissions (from sources controlled by Spark) include: the vehicle fleet, refrigerant, diesel for backup generators and natural gas. In FY16, Spark achieved a further 5% reduction in direct emissions. Spark's indirect emissions reduced by 11% this year. Indirect emission sources include waste, business travel and electricity.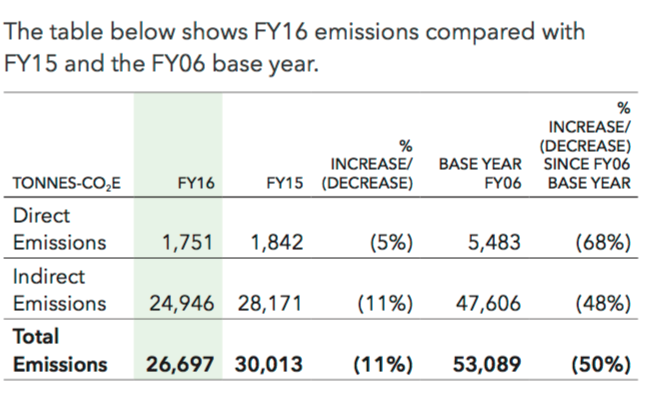 Enabling sustainability in New Zealand
---
Operating Efficiencies



Spark enables people and businesses to be more sustainable every day. Through digital services, Spark reduces the need for travel and transport and increase productively and communication.
From the Cloud to Wireless Broadband, our services increase energy efficiency across the board and help to reduce emissions. Enabling our customers and staff to better manage our country's resources also allows Spark to work towards a more sustainable future.
The Numbers
11%

Decrease in annual
greenhouse gas emissions in FY16

25%

Spark has an aspiration to reduce
annual greenhouse gas emissions by 25% by 2025 from FY16 levels

264,971

Mobile phones recycled
through the RE:MOBILE
programme




How Spark contributed to the community and sustainability in FY16